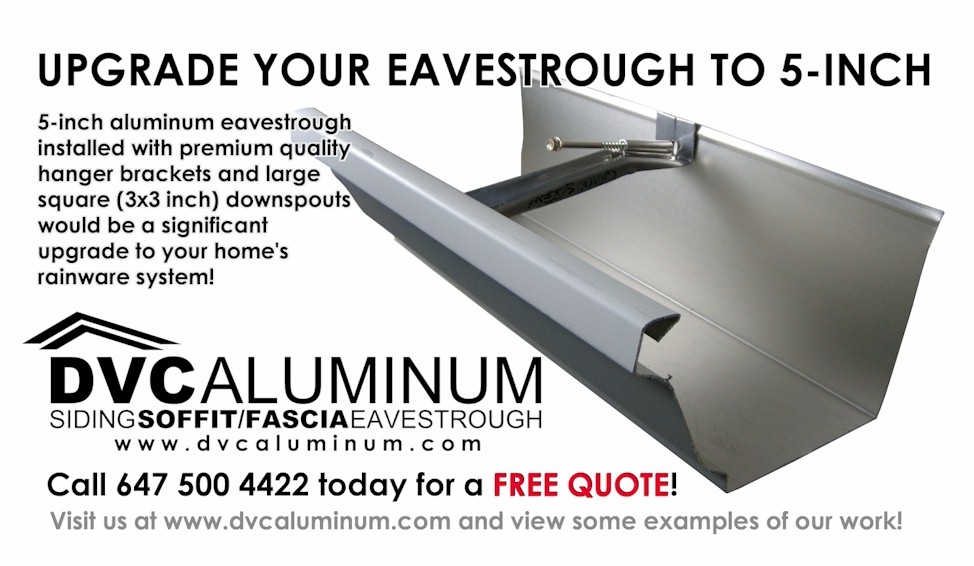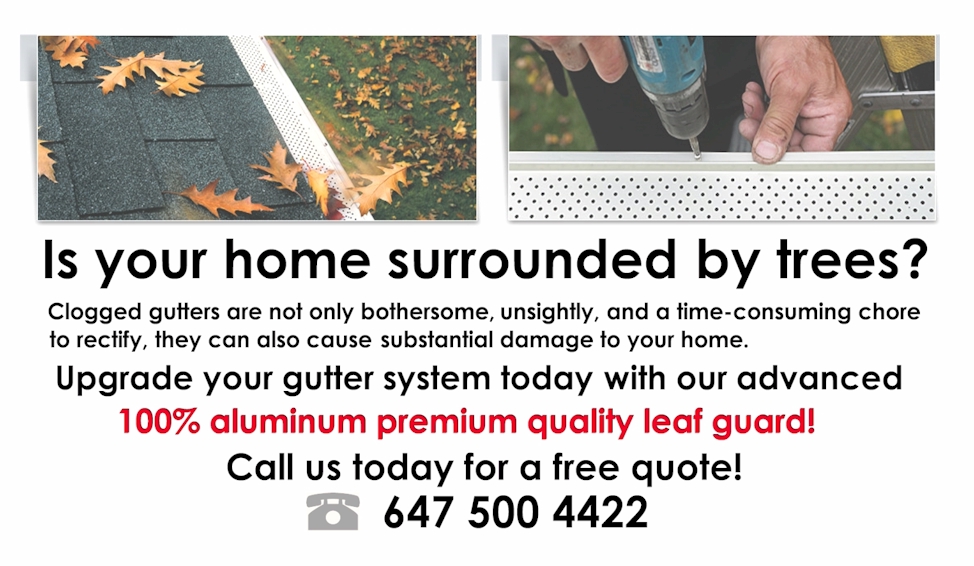 MississaugaEavestrough.Net - Siding, Soffit, Fascia & Eavestroughing in Mississauga, Brampton, Etobicoke, Caledon, Georgetown and surrounding areas

>> What should one know when selecting a contractor for eavestrough installation? <<
Testimonials

Mohammed in Brampton - Work done: eavestrough replacement
DVC Aluminum did a very good job. I am satisfied with everything including the price. My eavestrough was replaced quickly
and my house looks great. I recommend calling DVC Aluminum. You will not be disappointed!

Gabriela in Mississauga - Work done: soffit, fascia and eavestrough replacement
Excellent workmanship! DVC Aluminum guys did an amazing job. Very personal experience. Good pricing - very competitive.
Service was friendly and attentive. Their follow-up was very good and their attention to detail was incredibly good. I would say
use DVC Aluminum!

Veronica in Brampton - Work done: eavestrough replacement
DVC Aluminum replaced the eavestrough and downspouts on my home because the former ones were leaking in different parts.
I contacted Vedran on a Friday and he came out the following Tuesday to give me an estimate at the time he said he would be at
my house. I had gotten a previous estimate, but that company had a difficult time scheduling the work for some reason. Anyways
the price quoted by DVC Aluminum seemed reasonable to me and Vedran returned the following Monday and did the job. Again
he was on time, professional, answering any questions I had, and neat with his handiwork. He cleared away the debris left from the
renovation. Also he stuck with his original quoted fee, so there were no surprises for me. As anyone in the GTA knows, this June
and July there have been a number of days with heavy rainfall. I am glad the new replacements are functioning well and I am
satisfied that I have received good service. Very professional, reliable and trustworthy. I recommend calling DVC Aluminum.
View some examples of our work! :: Service coverage area :: Frequently asked eavestrough questions :: More about us at www.dvcaluminum.com
Serving Mississauga, Etobicoke, Brampton, Oakville, Woodbridge, Vaughan, Richmond Hill, Toronto, Caledon, Bolton, Georgetown, Milton and area.
We specialize in full renovations and repairs. For all your siding, soffit, fascia and eavestroughing needs call DVC Aluminum today!

Visit our blog at

dvcaluminum.blogspot.com and our

Facebook page || Affiliate sites: TorontoEavestrough.Ca :: BramptonEavestrough.Com
DVC Aluminum, 43 Tobermory Crescent Brampton ON, L6V 4T5 :: t| 6475004422 :: info@dvcaluminum.com
Related sites: MississaugaEavestrough.Com :: MississaugaGutters.Com :: BramptonGutters.Com
Copyright © 2019 mississaugaeavestrough.net